Home Inspection Report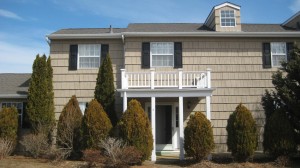 Address Withheld, Southampton, NY
Inspection by Richard Warden of Southampton Home Inspections also registered as Suffolk NY Home Inspections, license number: 16000053978
Suffolk NY Home Inspections
123 North Sea Rd, #691
Southampton, NY 11969
Table of Contents
REPORT INTRODUCTION 1
SUMMARY OF FINDINGS 2
ROOFING 3
EXTERIOR 4
INTERIOR 5
ELECTRICAL SYSTEM 6
HEATING SYSTEM 7
COOLING SYSTEM 8
INSULATION / VENTILATION 9
PLUMBING SYSTEM 10
STRUCTURAL / FOUNDATION 11
APPLIANCES 12
MAINTENANCE ADVICE 13
PHOTO PAGES 14
REPORT INTRODUCTION 1
The property at "address withheld" in Southampton is listed as a three bedroom, two bath condominium residence with approximately 2000 sf. built in 1987. It was inspected on March 11, 2014 at 1.00PM. The house was inspected for "client withheld" and the tenets of the inspection and scope of the report are outlined in the pre-inspection agreement signed on March 10, 2014. The report includes a combined checklist-narrative format with photo pages.
SUMMARY OF FINDINGS 2
The property has some positive features, but many signs of disrepair as well, as will be documented in this report. On the positive side, for example, the windows function properly and the vacuum seal of the double-pane glass is not broken. On the negative side, there are water stains at a bedroom ceiling on the second floor and the roof above appears to have been patched. Also, the Formica kitchen cabinets are warped and water damaged, among other things.
Safety Concern 1: Electrical outlets at kitchen, bathrooms and outdoor areas should be GFCI per local codes to prevent shock.
Safety Concern 2: Garage door does not have safety cables inside of springs in case they become dislodged (Photo 13 bottom).
Safety Concern 3: There should be adequate smoke detectors, carbon monoxide detectors and fire extinguishers per local codes.
Safety Concern 4: Large cracks in driveway could become a trip hazard if left unattended.
Safety Concern 5: Panel at crawl space of water heater should be metal-clad and recommend that space be fire-proofed in general.
Safety Concern 6: Recommend that all circuits be labeled in main electrical panel and that access not be blocked to panel.
ROOFING 3
DESCRIPTION OF ROOFING
Positive: The built-up asphalt roof appears to have been replaced within the past 10 years. Negative: There is a large roof patch to the right of a dormer window (Photo Page 2) that is above an area that evidences many water stains inside on the sheetrock ceiling (Photo Page 28). The interior attic plywood also evidences many water stains (Photo Pages 21-22). According to a maintenance contractor, the St. Andrews board approved a repair of the roof at a board meeting about five months ago. Recommend the status of this issue should be confirmed with the seller and condo board. Also a weakness, the roof substrate plywood does not appear to join properly at the ridge of the roof near the garage, as viewed from inside the attic (see black asphalt paper at ridge in Photo Page 18). The gutter downspouts should incorporate extensions to guide water away from house (Photo Page 6). Metal chimney cap appears somewhat corroded and in need of replacement.
Roof Covering: Composite Asphalt Shingle.
Flashing: Painted Metal
Chimneys: Brick – includes Metal Cap and Mesh Protection.
Gutters and Downspouts: Aluminum
Method of Inspection: Visual.
EXTERIOR 4
DESCRIPTION OF EXTERIOR
Positive: Grading is generally level with no flooding issues noted. Wood deck at rear appears in satisfactory structural condition. Windows appear to have been replaced and seem to work well. Negative: There is rot at some exterior wood details and exterior doors at rear are water damaged (Photo 9). Wood garage door is water damaged. Front doorbell button is broken and some siding is coming loose (Photo 7). Driveway is badly damaged in numerous locations (Photo 10) and should be repaired preventing trip hazards. An exterior sconce light is corroded and twisted off center (Page 12). Landscaping is damaged at lawn / driveway (Photo 11 top).
Wall Cladding: Cedar Shakes
Eaves and Fascia: Wood
Window/Door Frames and Trim: Wood & Metal
Driveways: Asphalt
Walkways and Patios: Brick and Cement Walkways.
Porches, Decks, and Steps: Wood Deck
Overhead Garage Doors: Metal – Electric, not working.
Lot Grading: Level.
Retaining Walls: None.
Fencing: None.
INTERIOR 5
DESCRIPTION OF INTERIOR
Positive: Walls are generally in fairly good condition. Carpeted locations appear to be in fair condition. Fireplace is operable, though falling dust indicates that chimney interior needs cleaning. Part of the attic has been converted to a walk-in closet with a cedar wall (Photo pg. 19). Negative: There is a minor water stain at the ceiling of the living room near the balcony (Photo Pg. 29 top). And there are water stains at the master bedroom ceiling and at side of rear window in that room (Photo Pgs. 28 bottom and 30 top). According to a maintenance repair worker familiar with the house, the roof has a leak and the condo board has agreed to fix the roof. Recommend confirming all information about roof condition with condo board and expert repair man. There is a minor hole in wall at master bedroom (Photo 29 bottom). Some bathroom tile needs caulking (Photo 27) and a sink edge needs caulking (Photo 26 bottom).
Wall and Ceiling Finishes: Sheetrock.
Floor Surfaces: Tile, Carpeting,
Interior Doors: Wood – Hollow Core – 80 inches high.
Fireplace: Brick Fire Box with Operable Damper.
ELECTRICAL SYSTEM 6
DESCRIPTION OF ELECTRICAL SYSTEM
Positive: Copper-core wires are well-installed in main service panel for general house wiring with no double-tap wire connections at breakers (Photo Page 14). Negative: Access to main electric panel was blocked with storage and breakers are not labelled. One loose outlet was noted and no GFCI outlets were noted at kitchen, bathrooms or outdoor areas. This should be remedied ASAP.
Service: 120/240 Volt Main Service – Service Size: 200 Amp
Service Entrance Wires: Under Ground to Service Panel
Main Disconnect: Main Service Breaker is 150AMP Amps Located: Garage
Service Ground: Not visible
Main Distribution Panel: General Electric: Location: Garage
Branch/Auxiliary Panel(s): None.
Distribution Wiring: Copper Plastic Sheathed Cable
Receptacles: Properly Grounded and Polarized.
Ground Fault Circuit Interrupters: Needed per Code
HEATING SYSTEM 7
DESCRIPTION OF HEATING SYSTEM
Positive: The York electric heat pump in the attic was running and heating the house (Photo Page 20). The outdoor condenser fan is working OK (Page 4). The house ductwork is insulated. Negative: Access to attic spaces and equipment is difficult and a hatch door with pull-down ladder is recommended. The air filter is dust-filled and should be replaced (Page 15). Recommend cleaning all ductwork of dust.
Primary Energy Source: Electric
Heating System Type: Forced Air
Heat Distribution Methods: Ductwork, flexible.
Other Components: Air Handler/Fan
Operating Controls: Wall Thermostat
Chimneys/Flues/Vents: Chimney
System Manufacturer: York
System Description Heating: Heat Pump and Air Handler
COOLING SYSTEM 8
DESCRIPTION OF COOLING SYSTEM
Positive: Cooling System is centralized. Negative: The outdoor condenser fan is working, but unit is rusted and not sitting level (Page 5). The old condition indicates that is may need to be replaced in the near future.
Cooling System Type: Central, Forced Air.
INSULATION / VENTILATION 9
DESCRIPTION OF INSULATION / VENTILATION
Positive: Bat insulation seems to be in good condition in attic. There was a moisture barrier noted in garage at top of concrete slab, which is a good sign (Photo 23 top).
Negative: The screen covering at the attic vent at the roof gable is falling off and this creates a potential pest infestation problem (Photo 22 top). Fan at living was not tested due to art-mobile hanging off it. Verify with owner working condition.
Attic Insulation: Bat, appears OK.
Roof Cavity Insulation: No Closed Roof Cavities Visible.
Exterior Wall Insulation: Not Visible.
Air / Vapor Barrier(s): Kraft paper is standard on bat insulation at attic
Roof Ventilation: Gable Vent
Exhaust Fans / Vent Locations: No exhaust fans noted.
PLUMBING SYSTEM 10
DESCRIPTION OF PLUMBING SYSTEM
Positive: Copper supply pipe seem to be in good condition and is located below stair in hidden crawl space. Hot water heater is working properly, also located under stairs. It is a 40 gallon Rheem model and serial number indicates it was made in February 2005. Per Photo Page 11 bottom, waste water exits at front of house to Condo system. Also positive, public water has higher pressure and Suffolk County does not deposit controversial fluoride in the water supply. Negative: One of the bathroom sink faucets is leaking (Photo 27 top).
Water Supply Source: Public Water Supply
Service Pipe to House: Copper, Entering From Street Side.
Main Valve Location: Under Stair
Waste System: Exits to Front – Condo Responsible.
Drain / Waste / Vent Piping: Condo Responsible.
Water Heater: Electric – 40 Gallons – Rheem Serial #: RH 0502C01495
Other Components: None.
STRUCTURAL / FOUNDATION 11
DESCRIPTION OF STRUCTURAL / FOUNDATION COMPONENTS
Positive: Attic spaces appear to be structurally sound with wood braces in some locations (Photo 21-22). Because there were no settling cracks noted in sheetrock walls, it appears that foundation slab is functioning properly. Negative: The water stains at ceiling and around window of master bedroom are a cause of concern regarding potential structural problems if water penetration is not addressed.
Foundation Material: Poured Concrete Slab Foundation.
Exterior Wall Structure: Wood Frame
Ceiling Structure: Wood Joist
Roof Structure: Wood Rafters
Attic Inspection: Visual observation revealed water stains at plywood near master bedroom.
APPLIANCES 12
DESCRIPTION OF APPLIANCES
GE Profile refrigerator, on and working. GE profile electric range, working. GE profile microwave, working. GE dishwasher and Maytag washer and dryer, not tested. Testing of oven and appliances in general is not required per NY State Inspection Requirements. A central vacuum unit was noted in garage. System works when wall feeds are opened. Also, kitchen sink electric waste disposal works.
MAINTENANCE ADVICE 13
DESCRIPTION OF SHORT- AND LONG-TERM ADVICE
FIRST MAINTENANCE UPON MOVE-IN
• Review and remedy all the safety concerns noted in Section 2 of report.
• Change the exterior door locks for security.
• Make sure windows are also secure against break-ins.
• Ensure that existing smoke and carbon detectors are working, replacing batteries and install new units as necessary.
• Make sure you have enough smoke and carbon detectors per local building codes at local building department.
• Verify you have tested / approved fire extinguisher in kitchen and as required in house per codes.
• Prepare an evacuation plan and rope ladders in case of fire.
• Inform family adults where main propane, water and electrical shut offs are in case of emergency.
REGULAR MAINTENANCE
• To prevent mold growth, clean and disinfect bathroom grout and tile regularly and ventilate adequately.
• Check fire extinguishers and re-charge if necessary once a month.
• Examine and clean dryer vent grill / cover and exhaust pipes once every few months.
• Check / clean heating cooling filters once every few months.
• Have metal heating / cooling ducts completely cleaned out every few years.
• Check for mold / leaks and pests in crawl space every few months.
• Check for leaks / pests in attic spaces every few months.
• Have chimneys inspected once a year and cleaned if necessary.
• Check / change smoke carbon detector batteries once a year.
• Have the heating, cooling and water heater systems cleaned and serviced once a year.
• Have septic tank checked once every few years.
If you have any questions about this report, please contact us and we will be happy to answer them. Best wishes in the purchase and enjoyment of your new home if you purchase it!
Richard Warden
(Please note: The above report text does not include the 31 photo pages included in the report (62 pages in total) which are standard in our home inspection reports. We send emailed reports usually within 24 hours and then snail-mail the entire printed report shortly thereafter.)